Raleigh & Triangle Homes for Sale | Raleigh Real Estate
Raleigh NC & Research Triangle Homes For Sale – Search 9,437+ Raleigh-Triangle Area Homes for Sale. Full Raleigh area Triangle MLS - updated every 5 minutes!
"The Triangle" in North Carolina is a metropolitan area of 3 great universities, 4 counties, 3 anchor cities, and many large towns - with Research Triangle Park at it's heart! The home of great jobs, great culture, and great homes! Find your new home here!
The largest cities surrounding Research Triangle Park NC are Raleigh, Durham, Chapel Hill, Cary, Apex, Holly Springs, and Morrisville.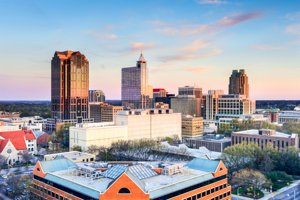 You will love the Raleigh - Triangle area!
Why? Let us count the ways!
Centrally located - the growth of housing developments across the three cities of the Triangle – Raleigh, Durham and Chapel Hill - made RTP North Carolina a work destination for over 40,000 people. This of course is not surprising as RTP is such a central location: 9 to 11 miles from downtown Durham, 12 to 14 miles from the center of Chapel Hill and the University of North Carolina, and 18 to 21 miles from the state capital of Raleigh.
In addition, the Triangle area is within drivable distance to the beautiful NC coast and the mountains for quick weekend getaways. You will fall in love with miles and miles of white sand, great seafood and fun beach activities. To the west the Appalachian Mountains offer opportunities for hikes, local arts and folklore not to mention the best apples you have ever tasted.
Mild weather in the Triangle allows for near year-round golfing and other outside activities. Yes our summers are hot (do you love flip-flops?) but our winters are short and mild. However, unlike other southern locations we still have the four seasons. You will love the spring flowers that start blooming late March and fall leaves turning color in early November. The weather is also loved by our many area Golf Course Communities!
Jobs! Since the 1965 expansion of IBM into the Park other companies have been flocking to the area. The Park is currently home to 170 companies that include such greats as Cisco, Bayer, Biogen, GlaxoSmithKline, Idec and Syngenta to name a few. In addition, we are proud of our universities and hospitals that offer many employment opportunities. These include University of North Carolina, Duke and NC State. Our hospitals are some of the best in the country and include UNC Hospital, Duke, Rex and Wake Med. No matter where you live in the Triangle area you will have access to good jobs, education and healthcare.
Housing. One of the best things about the Triangle area is the affordability of our housing. Many people relocate here from other parts of the country because they can still get more house and property for their money and to pay less tax. If you come from the northeast you will laugh when you find out the average tax you will pay for a 2,000 sqft home! Just ask us - we will be happy to share!
Needless to say our housing prices are increasing so if you want to make an investment in real estate here and now is the right place to start. In addition, while other areas of the country suffered during the 2008 recession seeing job loses and rapidly dropping real estate prices Triangle area has by comparison been only mildly affected. Our housing prices dropped but not as much as in other areas of the county and we have quickly bounced back.
Finally, over the last decade or so, the downtown areas of Raleigh and Durham began the process of redevelopment of old warehouses, mixed-use developments, and a revitalized arts, culture, and restaurant scene. This is attracting many buyers to those cities. A market has begun to emerge for more dense and convenient living that continues to expand. If city living is something for you let us know!
Outside of the immediate Triangle area and its main cities are many other areas that offer great quality of live, good schools, shopping and wonderful communities. If you want to learn more select one of them on the right side of our home page